Frequently bought together
Guru's hand-holding
Amendments or updates or any other discussions are uploaded regularly on YouTube
Query solution – "CA Parveen Jindal" Sir's Regular interaction with students through WhatsApp number will be given subject related query solution
More Information
Language
Discussion and explanation of topics – mix of Hindi and English
Class notes and books will be provided in English
Technical Details
Separate helpline number for technical support
Classes can be played on one laptop only Windows 7 (Ultimate, Home Premium, Professional and Enterprise) 32-bit/64-bit, windows 8, 8.1 and Windows 10. (desktop, projector, tv & any external display is not allowed)
CA Parveen Jindal
Mr. Parveen Jindal is a first-class commerce graduate from Punjab University (Chandigarh), having done his graduation from Guru Nanak College. He qualified Chartered Accountancy Course in 2002. He has completed all the level of this course in first attempt with merit at the age of 21 & half, far ahead of the completion of article ship. He completed his post-graduation in India Accounting Standards & IFRS in 2010. He also topped Punjab university by scouring 100% marks in Accountancy and Financial management.
Book along with the Course
The given fees are inclusive of printed 2 books
Delivery period is 7-10 days from date of order placement/documents provided.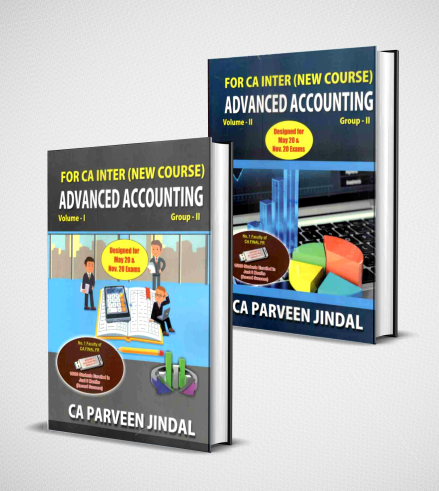 Frequently Asked Questions